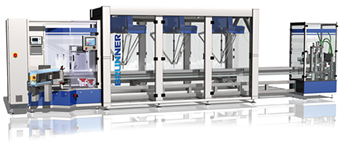 BRUNNER VCL Stick Pack – the flexible vertical cartoning machine
The fully servo-driven, intermittently operating vertical cartoning machine is perfectly suited for pharmaceutical product packaging such as sticks, bags and blisters.
Individual design and flexible deployment
The machine processes sticks and folding cartons across a very broad range of for-mats. Numerous types of closure, including safety and special closures, can be inte-grated; simultaneous tuck-in and hot-melt closure options are also possible. Be-spoke, customer-specific additional functions – from brochure feeder, including fold-ing device, embossing system, code reader, camera control system all the way to inkjet printer – ensure safe processes and offer a diverse range of options.
Thought through down to the very last detail
Depending on the requirements the product can be fed by two, three or more pick & place robots. The technical processes are designed to generate the highest possible output. All modules of the packaging machine are technically advanced, consist of high-quality components, are in conformity with GMP guidelines and have proven in practice. The fully servo-driven vertical cartoning machine has a maximum output of 80 folding cartons and over 400 sticks per minute.
Top technical industry standard
Parameters can be activated as required via the menu on the multi-language touch panel. Format changeovers and speed settings can be implemented within about 20 minutes. New product data can be altered fast and in an operator-friendly way and stored in a library. Precise guides and digital position displays allow for mechanical format settings with excellent repeatable accuracy. Top-quality technology guaran-tees utmost reliability and requires almost no maintenance.
Plastic Bags (Sticks) with Delta-Robot VCL 180S #13875
BRUNNER VCL Stick Pack brochure …

Technical details – at a glance …