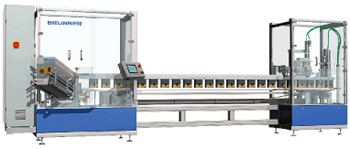 BRUNNER VCL – the multi-purpose vertical cartoning machine
The GMP-conform BRUNNER VCL is equipped with state-of-the-art servo technolo-gy. Its short retooling times make it ideal for flexible deployment.
Position-accurate format changeovers
Precision guides, spindles, scales, digital displays and positioning drives allow you to easily adjust format settings with repeatable accuracy.
Multi-purpose product feeder
Both the manual and automatic product feeder – with centrally controlled pick & place robots – is made for easy and fast format setting.
A wide range of options
Countless additional functions meet customer-specific requirements such as, e.g. fully automatic product feeding with pick & place robots, camera to identify products, brochure feeder with folding device or friction feeder, code printer and code reader.
The BRUNNER VCL is especially suitable for applications that require high flexibility, e.g. in the contract packaging sector.
Diverse products VCL 180S #13030
Cosmetic bottles VCL 180S with 90°-Pick&Place Unit #13860
Bags with Bottles and booklets VCL 180S #14437
BRUNNER VCL brochure …

Technical details – at a glance …