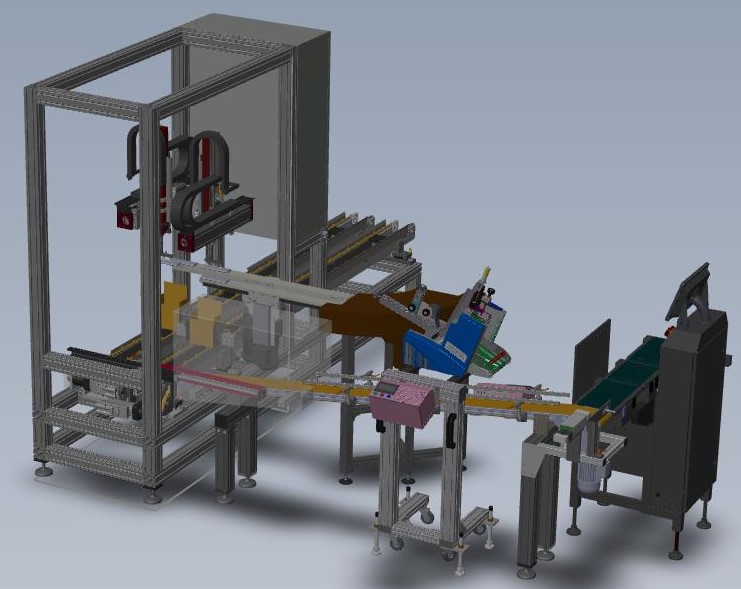 Fachpack 2022
At this year's Fachpack 2022 in Nuremberg, BRUNNER will be presenting for the first time a semi-automatic packaging machine for processing foil bags (=stickpacks) in automatic-bottom folding boxes.
The sticks are taken over by 2 independently running stick-pack machines and inserted into the manually placed folding boxes, which are open at the top, each with a pick & place handling system. The filled folding boxes are then discharged centrally onto the belt conveyor. Package leaflets are then fed to the folding boxes via a friction feeder on the discharge belt conveyor.
At the end, the filled folding boxes are printed and weighed, and closed manually.
A maximum of 70 sticks can be packed per minute per lane. Different stickpack and folding box sizes can be processed.
The entire system can be operated by just one operator.
Moving to a new location ...
Just in time for the 20th anniversary since the re-founding of Brunner Engineering GmbH & Co. KG, the new production building was inaugurated on October 22, 2021. During a barbecue event, the employees celebrated the opening in the assembly area of the hall until late at night, together with current owner, Ralf Mohr.
The basis for a modern and future-oriented production facility was created on the new property with approx. 4,600 m² at Schlosserstraße 11. The building has a floor space of 1,250 m² with 2 storeys of office area.
The issue of sustainability had a significant influence on the entire planning. The building was therefore constructed to KfW standard 55. An efficient air-to-water heat pump supplies the underfloor heating for the office area during the cold seasons. In summer, additional air-conditioning units create a pleasant working atmosphere.
In the production area, modern air-conditioning split units are used, which provide a pleasant working climate via textile hoses, both in winter and in summer.
A large-scale photovoltaic system with an output of over 99 kWP generates the necessary energy. Surplus electricity is fed into the electricity grid
The new build made it possible to meet the ever-increasing demands of the market, as the previous location had increasingly reached its limits over the past 5 years. The steady growth along with the constant advancement of technologies in the field of folding box packaging machines made an investment in the future inevitable. The new premises now offer sufficient space for the necessary spatial and personnel resources for the coming years.