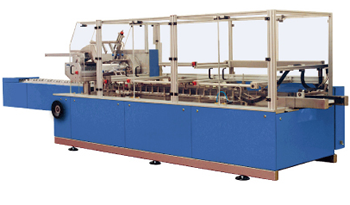 BRUNNER KS – the large-format hori-zontal cartoning machine
The powerful BRUNNER KS was specially developed for large-format folding car-tons. It can process up to 250 folding cartons/minute in continuous mode.
Robust design
The sturdy design and the accurately matched mechanical equipment (drives and bearings) with stepless frequency control of this low-maintenance machine ensure low-noise operation on a permanent basis.
Large formats
The rotary folding carton pick-up device with planetary-driven suction devices and pre-break function enables the safe processing of less stable folding cartons, including cartons with inner lining and/or attached lid up to a size of 270 x 120 x 350 mm [10.5" x 5" x 14"].
Functional design
Smooth surfaces and a special stainless-steel design make this machine suitable for wet operations and allow for easy cleaning.
The BRUNNER KS is a safe investment, suitable in particular for deployment in the food industry.
BRUNNER KS brochure …

Technical details –at a glance …