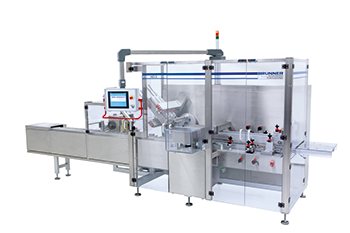 BRUNNER HCI – the compact horizontal cartoning machine
The BRUNNER HCI operating in intermittent mode stands for top cartoning quality and production safety in conformity with GMP guidelines. Servo-driven motors with direct drive ensure high precision during the entire course of movement and support rapid format changeovers with repeatable accuracy.
Short retooling times
The well thought-through machine design with rapid-changeover parts enables swift format changeovers and guarantees high availability even if batch sizes decrease.
Accurately repeatable format settings
Precision guides, spindles, scales, digital displays and positioning drives allow you to easily adjust format settings with repeatable accuracy.
A wide range of closures
Many types of closure are available, among others, tuck-in and hot-melt closures as well as various special closures with suspension link, for example, or safety closures.
With its compact and well laid-out balcony design the BRUNNER HCK Vario makes operation and cleaning easy and comfortable. The machine does not take up much space, meets GMP guidelines and is particularly suitable for deployment in the phar-maceutical industry.
Diverse products with folding unit for leaflets HCI 7,5 #13571
Tissue stack packaging HCI 7,5 #14353
HCI 5 #14662 with tube and brochure feed
BRUNNER HCI brochure …

Technical details – at a glance …