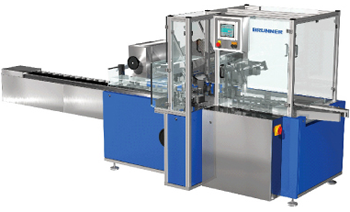 BRUNNER CMI – the universal horizontal cartoning machine
The BRUNNER CMI is a compact, robust and easy-to-operate cartoning machine that can be deployed cost-effectively in many application areas.
Cost-wise convincing
With a maximum output of 60 folding cartons/minute, a very large format range with maximum dimensions of 230 x 125 x 250 mm [9" x 5" x 10"] and safe processes the horizontal cartoning machine is a synonym for efficiency.
Mechanically well proven
Swivelling suction devices pick up the folding cartons from the magazine and feed them into the transport chain in one processing step. The precise cam control system and the safe drive system guarantee smooth processing that requires little maintenance.
Multi-purpose use
A few manual movements are sufficient to change the format or closure settings. The product feeder, too, can easily be readjusted to meet actual requirements.
The BRUNNER CMI does not take up much space. It is especially suitable for large-volume production.
Food trays CMI 8 #13610
Bottles with folding unit for leaflets CMI 6 #12134
BRUNNER CMI brochure …

Technical details – at a glance …